English lessons in Kennemerland
English lessons in Heemstede & area
Private lessons - duo lessons - small groups
All levels
Online lessons possible!
Do you experience fear of failure when you speak English, even in the Netherlands?
Do you sometimes feel insecure at work when spoken or written English is required?
Perhaps you have spent years studying the Dutch language, and now find that you really need to improve your English language skills as well.
This could be the right time to start doing just that!
All-round English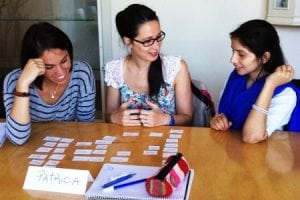 All-round English offers tailor-made courses for every student. During the intake session you will be able to discuss your goals and possibilities with the teacher. Individual lessons are one option, but duo lessons are also possible. If you wish to focus on one of the four skills: speaking – reading – listening – writing – this can be arranged.
Alternatively, you may prefer to use a course book, in which all language skills are integrated.
Companies may present employees for English language training at All-round English; either individually or in groups.
Interested?
Fees for private lessons.
Every private student gets a free 30-minute intake!
ln-company trainings: fees to be negotiated.
Teacher: Heleen de Pater.